ABOUT US
Established in 1890 by Clarence Sennett, Sennett Cattle Company is now a fifth generation highly diversified cattle and grain operation. Lance and Clark have vested their main interests within their cow/ calf operation which serves as the heart of their program. The Sennett family also operates a seed stock program, feeder cattle operation, feed-yard, and grain farming operation.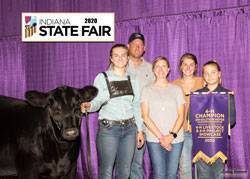 Family is the pillar in which Sennett farms sets on; each generation of the Sennett family has grown with their operation. Lance and his wife Margaret constitute the fifth generation of Sennett's to maintain their family's program. Their children Ellie, Emily, and Claire have all become a huge part of the success at Sennett farms as they actively exhibit their livestock nationwide. Through hard work on their show heifers and steers, most of which are bred and owned, they have enjoyed numerous accolades. The care they put into their operation was rewarded in 2008, as the Sennett's were given the Environmental Stewardship Award.
The cornerstone of Sennett Cattle Co. is their cowherd, from which they market show cattle both spring and fall borns, as well as breeding seed stock nationwide. They develop and market the top end of their bulls and offer their bred females kept for replacements for sale year round through private treaty. The Sennett cowherd is as diverse as the workings of the entire operation as they maintain purebred herds from each of the following breeds: Angus, Simmental, Hereford, Shorthorn, and Limousin. Their focus is to produce a premium product phenotypically-geared for the show ring, while maintaining ample focus on genetics and balanced performance traits. Essentially, we strive to produce females that are geared for national competition and produce that same product within the production cycle of their life.